Complete & Accurate  Bookkeeping Service
Tax season without any pressure. The bench includes tax bookkeeping and a year-end kit that includes anything you need to register, we deal with tax book-keeping, also,  We'll deal with your CPA directly.
Alternatively, use Bench Tax to mark more items off the to-do list. Bench Tax connects you with a tax specialist we know and trust. Then we take care of all of your tax preparation and filing for you, from start to finish.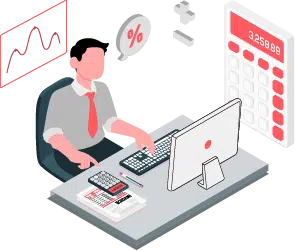 Secure Your valuable accounting data 
The Bench online accounting services will keeps you in charge of your finances by providing monthly financial statements and cost overviews. So, our provided visual reports that can be viewed at a glance and our accounts manual and database book will help you to see the big picture and provide actionable feedback to help you develop your company. You do not need to take the pressure on you for your stuffs account and salary payments, tax and vat payments or manage your expenses; we will provide you those account bookkeeping services with reports and feedbacks.
Efficiently managed bookkeeping services
With the Bench platform, you can tie it together. Get a direct line to your bookkeeper as well as quick access to critical business data. Professional assistance and critical observations are just a few swipes, taps, or clicks away on your laptop or Phone.
Our expert bookkeeper will help you at any time while you need them in count on your accounts, finance or tax and vat return files. Your one click will acknowledge you about any of your bookkeeping information.

Certified & Experienced 3 type Bookkeepers at your service
For Human beings books are just a manual form. Every month, the bookkeeping staff imports bank accounts sorts transactions into categories, and prepares financial statements. Have a question? Bench bookkeepers are employed on-site and react within one business day.
We'll report on your financial situation using our tools and services, ensuring you reach your deadlines. Our team will take care of all of your bookkeeping needs, prepare your accounts, and deliver them to you. This is an easy way to outsource your bookkeeping, and you can send us your records via Dropbox, e-mail, or the postal service.
We may send one of our trained bookkeepers to your business wherever you are in the Bangladesh. They will work with you on a daily or irregular basis to manage your bookkeeping needs. You just need to include the office, filing cabinets, applications, and other tools. This is an excellent option for a larger company.
For your company, a combination of on-site and off-site bookkeeping services may be the best option. For example, you will need to meet with a bookkeeper on a regular basis to address your needs or get updates, but the work itself can be done offsite using specialized tools and Paperless HRIS methods. We can tailor an on-site and off-site bookkeeping service to meet your unique requirements.
FAQ For Bookkeeping Services
What type of accounting do we do?
We do full charge bookkeeping typically performed on a more frequent basis like once a week or daily. We handle the everyday bookkeeping operations of your business. We work with you, front and center, running payroll, managing AR/AP, paying bills on a schedule of your choosing. We settle, review and provide financial reports. The frequency of services and level of activity upsurges the base price.
How does Remote Bookkeeping Services work?
We perform the bookkeeping locally on our computer and send you back the file when finished. The schedule that you choose for the books to be updated, based on that we can perform the accounting services daily, weekly, twice monthly, monthly, quarterly, and annually. Whenever our scheduled time ensues, the day before is the closing date to turn in documents that relate to the bookkeeping; bills, checks written, etc. We will also perform any other tasks that may be due to process, online banking activity, payroll, paying bills, and settlements on deadline day
How do I get my documents to you?
Dropbox we mostly use and we also use, Google Drive, OneDrive, email, and outlook mail. We can follow to any process that makes our customers' life easier.
When is the task performed? On a schedule?
Yes, on a schedule to be strong-minded daily, weekly, twice a month, monthly, quarterly and annually. We can adjust to any schedule that you need.
When can I expect my financial reports on every month?
We select a date of each month for the prior month closing. Situations that can delay this process are open items, documents and questions that are coming up to be received in order to finish up.
What are the current Bookkeeping industry outsourcing trends?
The accounting industry is feeling the pressure-attracting and retaining employees is harder than ever.Due to the high cost of labor in other countries and the high degree of supervision, many Bookkeeping Services company are striving to develop.