Our 3 Best Category: You Can Now Register Your Company Registration Business Very Respectable Prices!
---
It is quite common in Bangladesh to recommend forming a private company for company registration. A business of this type provides restricted responsibility to its stockholders. The members of an LLP are the owners and operators of the company. Private limited companies may have different directors and shareholders. Payrollbangladesh, your premier legal advisor, offers a cost-effective service for registering companies in Bangladesh. Here you can learn how to register your HR business solutions
Ownership:
Bangladesh is a rather open country when it comes to foreign ownership. Foreign ownership can be up to 100% in most industries. On the other hand, certain businesses require government clearance, and some industries forbid both international and domestic investment.

Minimum Capital:
Bangladesh has no official minimum capital requirement. As a result, $1 is regarded as the bare minimal capital input. Investors should keep in mind, however, that if they plan to engage foreign workers, they must submit an inbound remittance of at least amount $50,000.
Registered Office:
A business's registered office does not have to be a commercial site. You'll need approval from your landlord if you wish to use a rental property as your perfect registered office. Many international corporations establish a Registered Office in Bangladesh to execute Liaison Office functions.
Our 3 Trustworthy Company Registration Services That Can Fulfil Your Need
---
Enjoy hassle-free processing, timely updates, and the assurance that we'll be there for you every step of the way. We won't let go of your hand until you're completely happy.
Why Trust Payrollbangladesh For Company Registration Services?
On Our leading platform, you can register the company of your dreams with absolutely little effort.
Get in touch with Payrollbangladesh, Bangladesh's leading provider of premium all-in services for company Registration.
Payrollbangaldesh has successfully handled more than 5,000 applications for creating companies. And providing consumers with confidence, responsibility, and pride. We pledge to provide dedicated, quick, efficient, and cost-effective customer service. Please contact our team of over 100 advisors for free. Our professional guidance and answers to any queries you may have about the company's formation.
Our Valuation Company Registration Services Bring Core Benefits At Your Doorstep
You don't even have to leave your house to register your Private Limited Company. Because the process is entirely online. Within 14 days, Payrollbangaldesh completes the online Company Registration.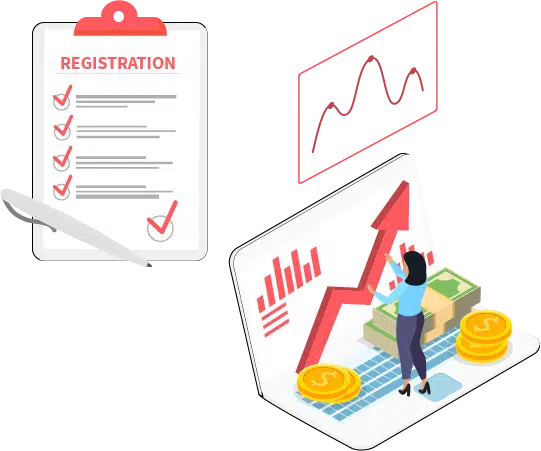 Our Company Registration Services For Your Successful Business
---
There are numerous advantages to forming a business. Your company's legitimacy will be enhanced if it is registered. It benefits your company - Protects against personal culpability as well as other risks and losses. Increases the number of consumers. With ease, obtains bank credits and good investments from reputable investors. Protects your company's assets by providing liability protection. Increased capital contribution and stability Enhances the company's ability to expand and grow large.
We take care of all legal paperwork and comply with all Ministry of Corporate Affairs requirements. You will obtain a Certificate of Incorporation as well as your PAN and TAN, once the company registration process has been approved. You can now open a current bank account and get your business up and running..
---
Frequently Asked Questions For Company Registration
1What Is The Minimum Number Of Members Needed To Form A Company?
At least seven directors are required for a company listed on a stock exchange. A public company without a stock exchange listing must have at least three directors. A private company has two members/directors, while a single-member company has a chief executive and a company secretary.
2Is Bangladesh Good For Business?
Yes. Bangladesh is a large prospective market for American exports, with a thriving garment industry fueling steady export-led growth. When asked to name the most appealing features of Bangladesh, both the corporate and public sectors cite low-cost labor as the most important consideration.
3Which Product Is In High Demand In Bangladesh?
Bangladesh's capital, Dhaka Fabrics and raw materials used to make clothes, such as cotton, were among the top 20 most valuable Bangladeshi imports in 2017. Wheat, rice, soya-bean oil, and dry shelled vegetables are among the most valued Bangladeshi imports.
4What Happens After Your Company Registration?
Following registration, your firm must provide a Share certificate to each shareholder within two months. A share certificate is proof of a shareholder's ownership of their stock. If a shareholder's name is removed from the company's internal Register of Members, they can use their certificate as proof.
5Do I Have The Option To Change My Company Name After Incorporation?
Yes, a company name can be changed at any time after incorporation by passing a special resolution by the members, and a certificate of name change is issued by the Securities and Exchange Commission of Bangladesh, whose jurisdiction the registered office of the company is situated in.
6Directors Of Companies Can Hold Government Positions?
A director cannot hold an office of profit.
Need Foreign Entity Setup Services?
We Are The Best For Entity Setup