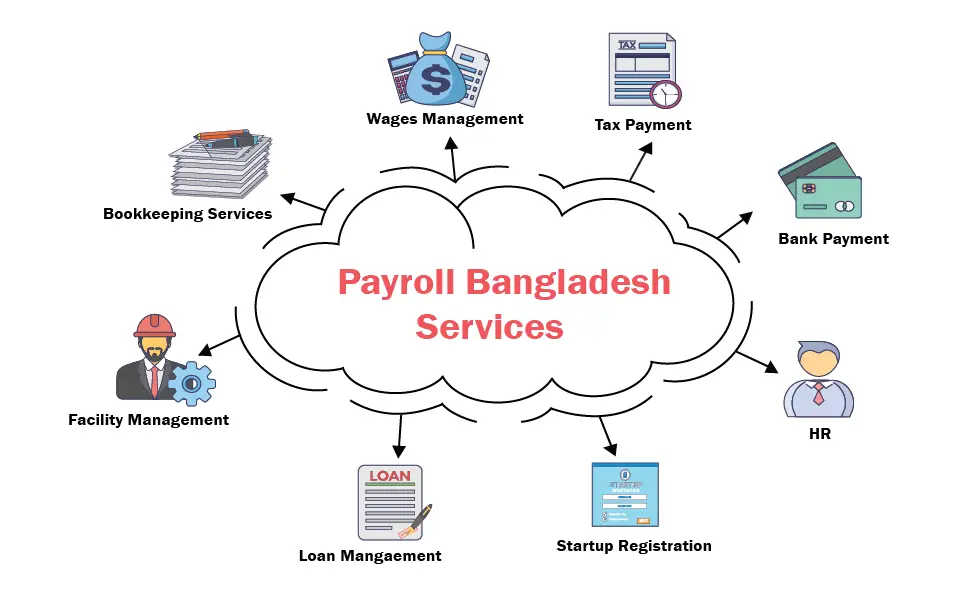 Run Your Business With Our Corporate Payroll Services For Up To 40% Less Rate
From your Accounts To HR-Its our responsibility
Payrollbangladesh is a leading corporate payroll services provider company in Bangladesh. We at Corporate Payroll Services take care of the payroll processing for you. By providing accurate payroll and excellent customer service, we save you time and money. Every single time.Payroll preparation, payroll tax reporting, and timely submission of federal, state, and local payroll taxes are all included. You won't have to worry about fines or late fees when Corporate Payroll Services handles your tax deposits and paperwork because we put your payroll first! The following 3 are some of the services we provide for businesses:
1. Processing of payroll
2. Observance of legal requirements in respect to payroll services
3. Assistance in resolving tax-related problems
Time & Cost Saving SpeciAl Activities Of Our Corporate Payroll Services
Our company will manage the full employment and organization payment methods. As a result, this is our entire process of spontaneous actions, while we also supply a variety of other services that will culminate in a proper job value. Our corporate payroll services are including all the facts which an organization wants. We manage a lot of duties including:
01. Managing to enter and leaving time schedule of employees.
02. 100% accurately calculated salary according to recent time duration and annual plan.
03. Dealing with the policies and staff of other companies.
04. Handling the local and international tax payments.
05. Providing the bank payslip and manage every employee's official bank account.
06. signing the checks and handing them over to their workers.
07. Engaging with HR support by maintaining medical issues, policy theme and leave counting for each employee, and look after if any of their human rights are divested.
Our Trustworthy Services Only For Your Successful Business Needs
We are here to manage your corporate payroll service with financial sector and HR activities on behalf of you.
---
We not only provide secure financial management, but we also provide a variety of services to your employees, including meeting their basic needs and managing their agreements and policies..
---
1. Flexible Solution
We provide a flexible and comprehensive payroll service that can relieve management of a considerable administrative burden, allowing them to focus on essential business operations. We ensure that pay and tax calculations are done in compliance with the proper regulations, based on our years of experience. We can help you whether you're a small business trying to hire your first employees or a larger, worldwide corporation looking to outsource your payroll service.
2. Skilled Team
The payroll team's core has been together for more than ten years. We believe that our payroll professionals, who place a great emphasis on client care, can help our clients understand the intricacies and obligations of Thai payroll. Our special approach to payroll services is completely focused on effective planning, a laser-like focus, and unwavering support for the firm from beginning to end. We have a pan-India presence, allowing us to successfully cater to our clients' diverse needs across the country.
3. Risk Management
Payrollbangladesh enables businesses to securely pay any domestic or international supplier with only a few mouse clicks. You delegate your payment fraud risk to a third party and refocus your efforts on other strategic activities. We provide you the ability to unwind knowing that we've got your back. Payment automation, virtual spending cards, cross-border payments, and currency risk management are all included in our solutions. We're simple to set up, ERP-agnostic, and flexible to any payment scenario. We have a solution to power you now and in the future, no matter how big or little your organization is.
6 Special Benefits Of Our Corporate Payroll Services Helps To Boost Your Productivity
---
1. Lower risk:
The entire corporate payroll services process is automated, so the danger of error is greatly reduced.
2. Great convenience:
You can successfully manage and track your payroll from anywhere and at any time of day using a mobile device. You'll be working with a standardized user interface that allows you to track your payroll in just a few clicks.
3. Reliable service support:
Our tax consultant is available 24 hours a day, 7 days a week to answer questions and assist with problems.
4. Peace of mind:
Business owners may relax since their corporate payroll services are being completed efficiently and precisely in accordance with current legislation when they outsource the payroll service. A fully outsourced service provides complete peace of mind by guaranteeing that your critical business tasks are effectively taken care of and that your firm is also legally compliant, avoiding all negative penalties such as improper payroll deductions to employees.
5. Accurate recordkeeping:
Payroll data is required differently by the federal and state governments. A corporate payroll service may assist keep all of the records needed for compliance in one place and provide reporting on a range of parameters, such as wages paid and taxes deducted.
6. Great efficiency through integration:
When you work with Corporate Payroll Services, you benefit from the convenience and speed that comes with dealing with a single vendor. We are capable of connecting your payroll processes with other critical areas such as attendance solutions, HR administration, and so on.
What Make Us Different To Provide Contractor Payroll Services Among Others?
---
Payrollbangladesh has become increasingly popular in recent years as a preferred business sanctuary for processing non-core functions for corporate payroll services. Payroll is also becoming a minefield as a result of the complicated legislation. As a result of outsourcing your payroll to Payrollbangladesh, you'll be able to:
1. Allow yourself extra time to focus on the growth of your company.
2. Remove the need for a professional payroll specialist.
3. There is no longer any need to be concerned about complicated legislation.
4. Get expert assistance with all of your payroll-related issues.
5. Have a firm grasp on your payroll costs.
Our flawless payroll bureau service will fulfill all of your diverse payroll administration needs, from printing personalized payslips to deducting required deductions, such as tax, for all of your employees on a monthly basis and processing payment efficiently. Our team works hard to ensure that you meet all of your complicated compliance goals.
Your time is really valuable. Don't waste your time 'pushing' your way through a long phone menu only to end up on hold. Instead, we're here to personally answer your inquiries, reducing the cost of payroll and taxes while freeing up critical time and earnings for your company.
For contingent workers, there are two alternatives for registering a business: a company and/or a partnership. Contingent workers who work for a registered partnership company are liable for their own taxes and pension payments, and they are not eligible for any benefits, such as statutory holidays or vacation pay.
If you need our corporate payroll services contact us today.
FAQs For Corporate Payroll Services
1I already use a payroll service. Can Corporate Payroll Services save me more money without sacrificing service?
Our services are usually 30 to 40% less expensive than ADP (Automatic Data Processing) and Paychex. Our prices include tax preparation and normal delivery, but some organizations charge extra for tax preparation and delivery. We are confident that you will be pleased with our service.
2Isn't my company too small to use Corporate Payroll Services?
Not in the least! Small and medium-sized businesses are our specialty. For a quote, please contact our sales department. There is no such thing as a small business. Some of our clients employ only one person. So, regardless of how many employees you have, you must file the identical 941, 940, and State Unemployment tax reports.
3I have unusual payroll requirements. Can payrollbangladesh help me?
Our tax experts can give tax advise on relocation costs, transport and subsistence payments across all relevant jurisdictions, in addition to the standard payroll service. We can also help with taxes in the case of Yes. We don't believe in a one-size-fits-all approach. We assess each company's unique needs and create a package to meet them.
4I do my payroll on my own computer. Isn't that better than having a payroll service?
Many of our clients have discovered that we can handle their payroll needs for a fraction of the cost of doing it themselves, especially when you factor in the cost of purchasing checks, hiring knowledgeable payroll staff, and obtaining annual software updates to stay current on changing tax laws and rates.
We Offer Cost-Saving Corporate Payroll Service Management
Providing the foreign delicates report, the company's new staffs report a monthly and yearly report about the company's development and financial budget.